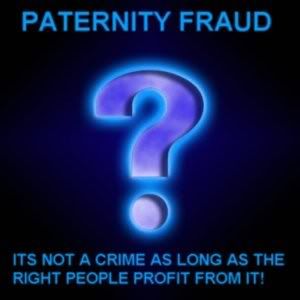 During divorce, child custody and child support issues go beyond who will pay child support and/or have child custody. Paternity fraud is when a divorcing husband suspects that he isn't the biological father of children that were born in the marriage. Paternity fraud can be literally lying, or offering fraudulent information, about the father of a child or children.
Paternity fraud often becomes an issue when relationships end and financial and custodial obligations for children must be divided between spouses. Generally, to commit paternity fraud, a woman must knowingly falsely indicate the father of a child. Motivations for committing paternity fraud may include maintaining a relationship and receiving child support payments.
There is no doubt that child support payments are important and that their loss will harm the child.
State governments have begun, slowly, to respond to this issue. Georgia passed a law in 2002 that allows courts to terminate child-support obligations of men who can prove they are not the fathers. Maryland allows an unlimited time period for challenging paternity, while the legislatures of other states have considered similar measures.
Is fatherhood just a matter of biology? Of course not - when a man has filled the social, emotional, and psychological role of a father for a child for some period of time, then for all intents and purposes he is the father and child support payments can be fairly demanded (but does that exclude any obligation from the biological father?
So what do you think?
The problem here is a very fundamental question of fairness. No matter what happens, someone is going to lose. On the one hand, it certainly isn't fair for a man to be forced to pay child support for a child who isn't his. If a DNA test can be used to establish paternity and force a man to make such payments, why can't it be used in the reverse?
Post your comments!
* Add your comments to our Facebook Fan Page - Michael Baisden Live: http://www.facebook.com/michaelbaisdenlive

* Send your comments about this topic with a video! Click the "Video" tab, then click "Add Videos" to upload your video onto ISeeColor. Add keyword tags to the video relating to your comment so we can find it. Remember to keep your comments to less than one minute!

* Any comment posted that does not relate to the featured blog will be removed without notice. Thank you for your cooperation