Check out this video: CHOCOLATE CRUSHES Crush Magazine May 2009



THE WESTERN CONFERENCE….
FEATURING WEST COAST POP LOCKERS AND KLAAMATION & MORE
MAY 15th 2009
Get your tickets now www.westernconference.eventbrite.com


WEST COAST POP LOCKERS


KLAAMATION FREE'S CHOREOGRAPHY REEL

Hip Hop and Fashion Industry Mixer together on Runway. This is where brands connect with artists and models. Catch waves from 4 of the hottest mix DJ'S from around the world.
Hip Hop Models rip the runway with some of the latest fashion designs by well known hip hop apparel creators. Dancers such as KLAA MATION Krump it off Right!
Hosted By Mr. Buck from THESPIZZLE.COM
DA RADIO SHOW/ UNTAMED TV/ LJ of SWAGG CITY RADIO / L.J. BROWN/
WEST SIDE BUGG/ KLAAMATION/WESTSIDE POP LOCKERS
(invitees/special guests/performers updated daily)
Special Performance By:
MS. TOI (ICE CUBE Feat. )
JAYO FELONY
GREENEYZ
LADY S
KONQUEST

& others…..
DJ'S
Catch N Wreck
Dj Santa Cruz
Designers Special Invites to:
* Clutch Couture * David Kahn Jeans * Deeply Rooted Apparel * The Bureau * Tai Collins
* Axmark Couture * Houstina Summers presents Cowgirl Heaven * 80's Baby
* Hunter Hill * Malachi Designs * Deference Clothing * Point Blank Los Angeles
* Dhakmani Clothing * Chatruz Clothing * Creative Epidemic * ESBE


SPONSORS * VENDORS* PERFORMERS Please call 818-579-6678 for more information.

RED CARPET & VALET PARKING
********** HOTEL ACCOMODATIONS FOR VIP GUESTS
Out of Asia
3249 S. La Cienega Blvd. Los Angeles CA 90016
Show starts at 9pm-1:30am
Doors open at 8pm
Dress Code Strictly Enforced..
[No Tennis Shoes, No T shirts, No Gang Attire, No Weapons of any form ]
Door Search Conducted

This event is sponsored by Safe Harbour Charity Organization. Assisting battered women and children, excons with transition in home & job placement.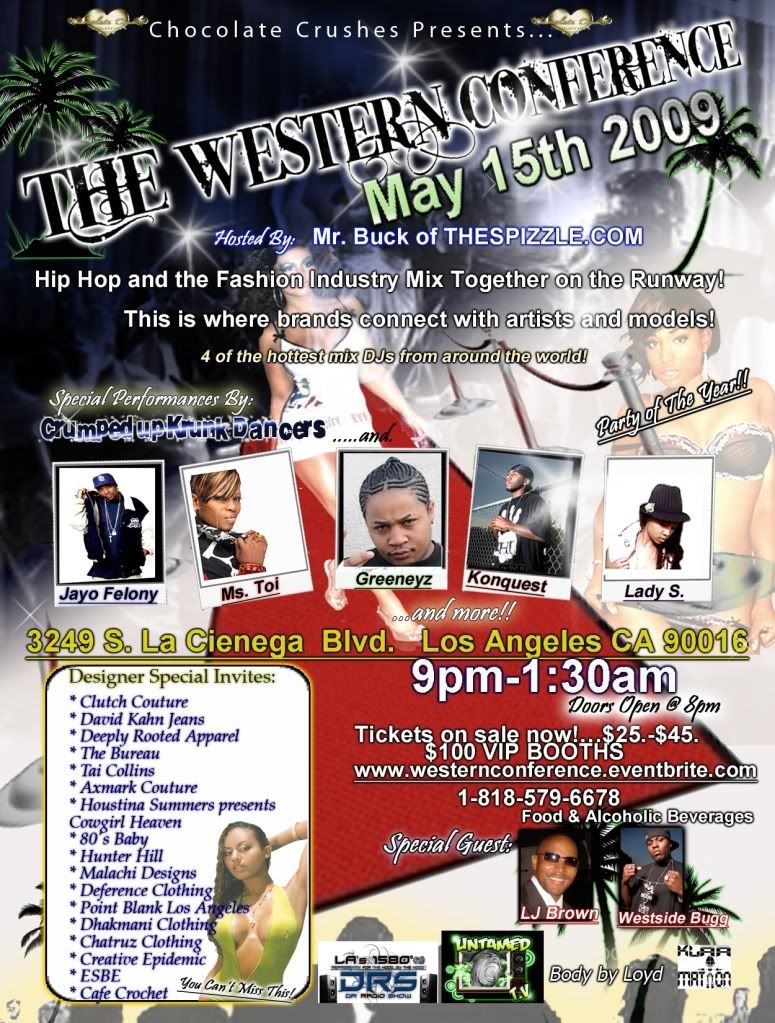 ChocolateCrushesRomance.com!
Have you dreamed of a place where you could meet new friends and mingle with other black singles or admirers? ChocolateCrushesRomance.com is definitely the website for you!

ChocolateCrushesRomance.com registration is absolutely FREE. It takes
only two steps to register your profile and then you can search for a potential partner in your own country or worldwide among tens of thousands of members.

Join us and contact hundreds of thousands of members!
................................................................................................................................

"Stealing Fame" Rap Tour Contest
Visit:
www.myspace.com/chocolatecrushes

Hip Hop & Rap Stars if you got the
hottest sounds… then you MUST register
for the "Stealing Fame" Rap Tour Contest.
Please visit the website for contest
information. If we think you're a competitive
match for the competition.. We will be interviewing
you for the contest.

............................................................................................................................ CHOCOLATE CRUSHES TALENT AGENCY SAN BERNARDINO CA 888-41-CRUSH
SEEKING MODELS, ACTORS, ARTISTS, AND ENTERTAINERS!!!!!!!!

---------------------------------------------------------------------------------------------------- WWW.CHOCOLATECRUSHES.COM WWW.CHOCOLATECRUSHESROMANCE.COM
WWW.CHOCOLATECRUSHESWAREHOUSE.COM
WWW.MYSPACE.COM/CHOCOLATECRUSHES